Developing and Improving Internal Communication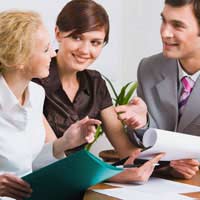 One of the most common reasons why family businesses fail is poor internal communications. These can lead to poor strategic coordination, customer service problems, disputes, payment errors and even resignations.
Right from when you launch your family business you should start to develop your communication strategies, and you can never improve them enough. Make sure you have back-up systems to deal with potential problems and, perhaps most importantly of all, make sure that everybody involved in the business is really ready to pay attention. The success of your business will ultimately depend on how well you communicate.
Different Forms Of Communication
There are several different means whereby you can organise internal communications, and ultimately what works best for you will depend on the nature of your business and the attitudes of your family members.
Direct Conversation- Talking directly face to face, is always the best way to communicate what you mean, but it's not always the most practical. It may also be more challenging for junior business members who have difficulty asserting themselves. Regular scheduled meetings can provide a reliable framework for discussion, but try to be available for informal chats as well.
Telephone Contact- If you're working from several different sites, or if some of your staff are out and about, telephone calls can be the best way to manage internal communications. However they can be expensive, phone phobias are relatively common, and you may find that they leave you feeling like you can never get away from work.
Email- This is ideal when you have complex things to express and want the chance to formulate them carefully before hitting 'send'. However it's only any use if people actually read it! If you use email in your business, make sure employees know they should check their inboxes frequently, and never rely on it for urgent matters. Also, bear in mind that messages can get delayed.
Instant messaging- An increasing number of businesses are switching to instant messaging as a means of handling their internal communications, and it's a great solution if everyone is sitting in front of a computer all day. However its character limit makes it difficult to put across complex ideas, and it can tempt employees to waste time chatting.
Post-it Notes- Leaving notes directly on people's desks is a great way to get across urgent messages when you don't have time to stand around and talk, but unfortunately notes can come unstuck and get lost. They tend to create mess and to become mixed up with other documents.
Business Noticeboards- Having one central noticeboard for all your important internal communications is ideal. Though it's of limited use in urgent situations, it's great for things like announcing meetings. Just make sure that your staff remember to check it at least daily.
Often the most practical solution to managing internal communications is to use several of these systems together, but then it's important to make sure that everybody understands which are most appropriate in which situations.
Talking And Listening
No matter which communications systems you use, they won't be any use unless people are really talking and really listening. It's important to develop trust within the business so that people feel they can say what they think and understand that their ideas and opinions are valued.
A good manager should always be approachable. It's also important to make sure that everybody within the business is ready to pay attention to everybody else, and to listen to what they're actually saying instead of just assuming what they're likely to be saying. You can improve this aspect of communication using role playing games in which employees have to work together in teams to solve problems. Give prizes for successful communication and let everyone know how important it is to the success of the business.
Last but not least, work on your own communication skills. If you're in a senior position in the business because you have a good education, the language you use, as well as your authority, could potentially get in the way of good communication.
Listen to the way your staff talk amongst themselves and try to phrase important matters in terms that will make sense to them. Don't confuse them with jargon and buzzwords. Make sure you're ready to listen to whatever they have to tell you. After all, not all good ideas in the business come from the top, and it would be a shame if your business were to miss out on opportunities to improve.
You might also like...