Family Business Training Opportunities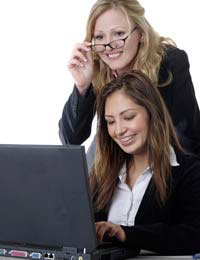 One of the most important things in any business is to have a dynamic approach, continually seeking to change and improve. To do this, you need to be continually adapting to new circumstances and learning new skills. Many small business owners have difficulty finding training opportunities that suit their needs, considering the existing pressures on their time and energy, but in a family business things can work differently. With the aid of your family, you can make improving your skills a part of your everyday routine.
In-Family Training
In order to develop your business skills, you first need to identify where training opportunities lie. Often people overlook the skills present within their own families.
Whether or not particular family members are a direct part of your business enterprise, they may have useful business skills which they're happy to teach you. This kind of training is ideal because it doesn't need to cost you any money (if you do pay for it you will usually do so at a reduced rate) and because it tends to be much more flexible than formal training, so it's easier to fit it around your business commitments.
Training opportunities are one of the reasons why it's important to keep up a dialogue about your business plans within your family. However, it's important not to be too pushy just because you're the one making management decisions. If you're going to learn, you'll need to be willing to defer to other family members' greater experience.
In-family training can often be useful in preparing you to undertake formal training - for instance, a refresher course in maths can prepare you for an accounting course. It can also be helpful as an adjunct to formal training, with family tuition making sure that you understand what you're studying thoroughly.
Formal Training
There are all sorts of formal training opportunities available through your local business support centre, educational institutions and professional bodies, but incorporating them into your life when you're busy running a family business can be difficult. It is however easier than in many other types of small business.
In a family business you can more reasonably ask other people to take the strain whilst you take time out to train because, after all, they too will reap the benefits if it makes the business stronger in the long term. Before considering training opportunities, call a business meeting and discuss the situation with your family to establish what you can realistically take on.
Training In Family Business Skills
Now that family businesses make up more than fifty percent of Britain's small business economy, an increasing number of bodies are offering training specifically targeted at their needs.
Your local business support centre can advise you on what's available in your area, or you can consider hiring in a family business training expert to improve certain types of skill for everyone in the business at one time. Approaching this kind of training together can be very useful, as it will help you to develop and maintain cohesion within the business, but it can be difficult to fit around work commitments.
Some families choose to undertake business training at weekends, or even to go on weekend residential business training courses together, mixing an educational opportunity with a family trip. Weekend training of any sort can be hard work if it leaves you all feeling like you haven't had a break, but it's important to cultivate that awareness that you're in it together. When you train with your family, you're building a brighter business future for all involved.
You might also like...