How to Franchise a Family Business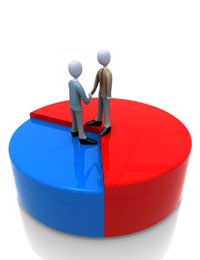 Business expansion can be a natural consequence of a successful enterprise. For a family business one of the most cost effective ways of business expansion is to adopt the franchise model. Becoming a franchisor enables the family business to grow, yet retain control of the core values that have resulted in the family business's success.
The franchise format of business expansion can be extremely flexible. Your family business can decide how fast it expands as it is in complete control of how many franchisees it offers its business model to in any given time period. The franchise business model can be ideal as it allows the cost of expansion to be passed onto the franchisee to a certain degree. However, remember that your family business as a whole will still have to invest in the promotion of the new franchise and cover the costs of supporting your new franchisees.
Franchising and Your Family Business
Not all family businesses are suitable for expansion via the franchise model. Ask yourself the following questions to help you decide if franchising is right for your family business:
Can your business be easily duplicated in any geographical area?
Family businesses that are based on easily marketed and sold commodities are best for franchising. If your family business depends on specialist skills or knowledge, this could be a major barrier to any new franchisee as they may not possess the skills they need, or can't easily buy these skills in the area they want to operate their franchise from.
Does your family business produce a clearly defined product or service?
It is important that any potential franchisee can instantly see what kind of family business you are operating. If your family business sells easily recognisable services or goods, the franchisee can understand how they could profitably run a franchise operation they buy from your family business. Complex goods or services are not generally ideal for franchise expansion.
Can your business become a franchise at a reasonable cost?
If you family business produces luxury items of high value they may not be ideally suited to the franchise business model. Any franchisee that buys a franchise from your business must be confident they can make their money back and move into profit quickly. This not only earns them a living, but also ensures your business receives its franchise fee every year.
Is there a wider market for your family business's services or products?
Some family businesses are successful in their own local area. Think about how well your business could do in other parts of the country. A strong franchise operation should be able to set-up practically anywhere and find customers quickly.
Franchising Checklist
To move your family business into the franchise model, use the checklist below to ensure you have a successful transition and have planned or every eventuality. Franchise businesses can be highly profitable for the parent company, but you should spend enough time assessing your existing family business and if the franchise business model fits with your expansion ambitions.
Planning is vital
Just like any other project expanding your family business via the franchise business model requires detailed planning. This component of your project can't be stressed enough. Feasibility studies either conducted in-house or via an outside consultant will instantly reveal if your family business is suitable for franchising. SWOT analysis can be a useful tool to illustrate how suited your family business actually is to this sort of business model.
Pay close attention to costs
It is a myth that franchising is a get rich quick business model for successful firms looking to expand. The responsibility and costs associated with setting up a franchise operation before even one single franchisee has been found can be substantial. Your franchise business plan should include detailed costings for every component of your new franchise operation.
Training and support
One of the attractions of buying a franchise from the franchisees point of view is that they are in effect buying a ready-made business off-the-shelf. The most successful franchised businesses in the UK have detailed training programs and support networks from the franchisor. Factor in these costs and the additional infrastructure your family business may have to put in place to make the new franchise expansion successful.
Test your franchise package
Before you offer your new franchise for sale either through a franchise agent or begin to market your franchise yourself, test your set up systems. This testing is where you discover where your franchise package requires more detailed work. It is better to reveal any shortcomings in your franchise platform in this testing phase than trying to fire fight a plethora of problems when a franchisee is actually running their business.
Choose your franchisees carefully
Just because someone approaches your business and has the money to buy a franchise from your family business doesn't necessarily mean they will be good franchisees. Your family business has a vested interest in selling a franchise operation to reliable business people that will work hard to make the franchise a success. Take some time to evaluate every potential franchise candidate before you offer them a partnership.
You might also like...