Using the Firm-Specific Knowledge of New Business Members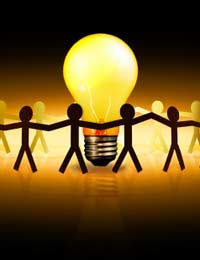 One of the big advantages a family business has as it draws new staff from the same pool is that they arrive in their positions with an existing familiarity with the firm. How can you take best advantage of this to increase your competitiveness and make the most of each individual's talents? And how can you use that element of predictability to strengthen your long term business planning?
Preparation
One of the big advantages you have as a family business is that you don't have to wait until your staff are in position - and your business is depending on them - to begin their training. If you know that a family member is interested in becoming part of the business, you can start informing and advising them about it right away.
Most of your family members are likely to have a good background awareness of what the business does and what its aims are, which will make it easier for you to coordinate what you're doing when they become directly involved. You can build on this with discussions aimed at working out where gaps in their knowledge lie, and you can invite them to observe the business more closely before they start participating in it.
A Shared Vision
One of the principal secrets to business success is making sure that every member of your team is pushing in the same direction, working toward the same goals. No matter how carefully you describe your objectives, it can take a while for new outside staff to fully integrate into your business and get the hang of this. Family members, however, should already understand what's important to you about the business and what direction you're trying to take it in.
As well as understanding your major goals, family members new to your business are likely to have a better understanding of lower level, day to day objectives such as how you approach building relationships with your trading contacts. This will help to create consistency within your business so that other people find it easier to interact with.
Strengths And Weaknesses
Because they have personal relationships with those already involved, family members entering the family business for the first time will be able to anticipate their strengths and weaknesses in a business context. They'll know, for instance, that they should be more careful in checking work passed on to them by a relative who is always badly organised, and that they shouldn't worry when a habitually loud relative starts raising his voice. They'll also know who is most likely to be able to help them with particular problems.
To take best advantage of this situation, existing business members need to acknowledge the complexity of the relationship and avoid trying to second guess their interactions with new staff. It's also worth acknowledging that new staff can bring a useful critical perspective to the business, perceiving strengths and weaknesses more clearly than people who have got used to working together.
Knowing Me, Knowing You
In an ordinary small business, hiring new staff is always a bit of a gamble - no matter how good you are at sifting through applications and interviewing, you never know quite what you're going to get. But in a family business, just as your new staff are familiar with you, you're familiar with them. This means that you can undertake your business planning - both long and short term - taking their abilities into account.
All in all, the existing firm-specific knowledge that family members bring to your business can give you a big advantage, even when it comes to the little things you're not consciously aware of. If a business is to grow big, it's often those little things that matter most.
You might also like...