Developing Trust: Competitive Advantage from Trust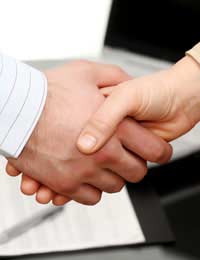 The natural trusting relationships that exist between members of a family business can be a tremendous competitive advantage, but of course, trusting people in a day to day context doesn't necessarily imply trusting them in business.
Developing trust at all levels can therefore by an important part of the work necessary to build a successful family business team. So how can you go about it?
Types of Trust
When you spend a lot of time with somebody it's easy to develop a mutual trust, a relaxed way of being together and a tendency toward natural teamwork. This is something that many other business owners strive to develop in their employees, and it's a major asset. However there are other kinds of trust that may not be present within a family, and some which may even be mitigated against by that context. For instance, if you remember someone making foolish decisions with money in their teens you may struggle to feel that you can trust them with the business' finances, even if they've graduated in accountancy in the interim.
You may also find it hard to trust people who are a generation younger than you with making serious business decisions.
Building this kind of trust requires taking some time to get to know each other as business people and become familiar with one another's skills. A good way to do this is to take it in turns to interview one another as if you were interviewing for each job.
People in subordinate positions should get to interview their superiors too, so that you can all feel confident that the right people are in the right positions. You will all then find it easier to trust in the future potential of the business.
Fun and Games
Another good way to build trust in a business is to take time out to relax together. This may seem strange in a family business when you all see each other a lot anyway, but you may find it's actually the case that particular family members never talk to each other much in the course of day to day life, or that they never discuss anything beyond the family itself.
Encourage everyone to try and talk as people, without regard to generational differences, about their interests, ideas and ambitions. To break the ice, you could try taking everyone away for a weekend together, perhaps involving group activities which could help you start to feel like a team.
Taking on challenges and playing games together are great ways of developing stronger relationships and boosting morale. Particularly useful are role play situations in which you can talk about how you might deal with particular types of problem as a team, but in a light hearted, fun way. If you're devising scenarios for role play, aim to develop ones in which trust and cooperation are rewarded. Players should come away from this with positive feelings about one another.
Workplace Teamwork
Once you've had the opportunity to develop trust and team working skills in a neutral setting, it's time to try them out in the workplace.
You can help to strengthen teamwork and workplace interaction by encouraging staff to help one another out with their jobs, to shadow each other and to take on particular tasks on one another's behalf. This will help them to trust each other and feel that they are working together toward a mutual goal, as well as diversifying their skills so that the business is in a stronger position if any of them have to take time off.
By bringing your staff together like this, you can reduce the impulse for them to compete destructively with one another and you can increase the competitive power of your business in the wider marketplace.
You might also like...