Holding Family Business Meetings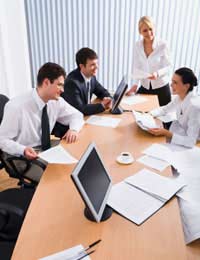 Just like family gatherings, successful business meetings require good organisation, communication and cooperation - but like family gatherings, they may sometimes find these qualities in short supply. What do you need to do in order to hold successful meetings where things really get done, and how can you win your family's cooperation?
Focus On Business
Perhaps the first and most important rule of holding a successful business meeting is to keep your focus in the right place - on getting things done. Sadly, many businesses hold meetings more because they think they ought to - because it's the done thing - than because they really understand this. You should make sure all your meetings are fully minuted and should judge their success by the number and quality of decisions made.
In order to stay focused and avoid the interruption of other kinds of discussion, it's important to keep business meetings under tight control. the sooner you develop this habit, the easier it will be to maintain it. One person should be in charge of each meeting - not necessarily as chief decision-maker, but as chief organiser. That person should enforce the agenda for the meeting, and everybody else should stick to it, with any other business having to wait until the end.
Business meetings can be held as often as you like, so you can adjust the rate of them to keep up with the amount of work needing to be done. However, most people can only concentrate on this kind of intense discussion for short periods, so it's often better to have several short meetings than one long one, even if this means that some business has to be carried over.
Communication And Representation
In order to keep meetings on track and make sure that work gets done efficiently, it's vital that the person running them can not only command authority but can also coax participation out of shy attendees and make sure everyone gets the chance to speak. Often domestic hierarchies can get in the way of this, but you risk missing out on valuable input if, for instance, children are afraid to contradict their parents.
In a family business meeting it's important to break down those domestic hierarchies from the very start, creating a special environment in which they don't apply. You should also make sure that there's sufficient opportunity for older family members, who may need longer to articulate their thoughts, to participate. If they are experiencing difficulty, encourage them to prepare important statements before the meeting begins.
Normally voting carried out at business meetings is done by a simple show of hands, but this may be inappropriate where family pressures make people uncomfortable about expressing their true feelings. For this reason, the selective use of secret ballots for sensitive issues can help to ensure that decisions are made fairly, in a manner which everyone will feel able to abide by.
Cooperative Decision Making
Often the world of business is portrayed as a cut-throat place where everybody is trying to outdo everybody else. We are told that competition brings out the best business ideas. But it doesn't have to work that way. Often very successful business work can be done cooperatively, and a family business provides the ideal environment for this.
Cooperative decision making requires an environment where point scoring and trying to look clever at other people's expense is frowned upon. It requires a different approach to business meetings - one which focuses on constructive approaches to problem solving and the development of ideas. Taking this approach in your business meetings can help you make the most of your natural advantages as a family business.
Whatever the approach you ultimately take, running a successful business meeting is as much about bringing together people as it is about bringing together ideas. If your family is willing to make the effort to work together, this is where it really counts.
You might also like...