The Family Manager: Alleviating Pressure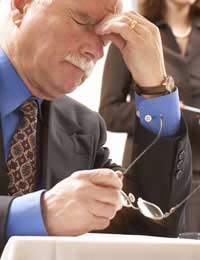 Being a business manager is a high pressure job, and never more so than when it's a family business, with the long term well being of the whole household at stake. But most people don't work well under pressure, and it can easily lead to exhaustion, loss of concentration and poor decision making. What can you do to manage your workload so that this doesn't happen to you, and what can your family do to help?
Get Your Priorities Straight
When you are under pressure all the time, it can be difficult to keep your priorities in order. Often you'll find yourself with several different apparently urgent things to worry about, which can easily lead to you feeling overwhelmed.
Use your business diary to make lists of all the things you have to get done (many computer diaries have a special facility for this) and arrange them in order of what is really most important, consulting others where you need advice. Then you can work through them calmly, in order, and not let anyone nag you about what needs to be done on one matter until you've dealt with the matters listed above it.
Look After Yourself
No matter what you're working on, your first priority should be yourself. Neither your clients nor your staff come before this. The reason is very simple: if you let yourself reach a point where you can't cope, everybody else will suffer. This doesn't mean you should be lying around doing nothing, but it does mean you should work through things at a pace you're comfortable with, taking breaks when you need to and making sure you get enough sleep at night. Try to eat healthily and exercise even when you feel under pressure to get to work. This can dramatically improve your performance.
Sometimes when you're struggling with a particular problem you can feel as if you're banging your head against a brick wall. This is often because you're simply no longer able to think clearly. If this happens, take a break, no matter how urgent the matter is, and do something physical like going for a quick jog. When you get back to your desk, drink a glass of water or fruit juice, and you'll be amazed by how much easier the problem is to solve.
Delegate
Every successful business manager is good at delegation. It's vital to realise that sometimes your workload will simply be too big for one person, at which point you have to start passing on some of your duties to your staff. As your business grows, this may mean taking on more managers, even if you have to look outside the family to do so. Don't be afraid to share out your responsibilities.
Talk to your staff and aim to find out where their areas of expertise lie. You may find that there are people in your family who're actually better at handling some individual management tasks than you are!
Family Support
However you aim to manage your business, knowing that you have the full support of your family can help considerably when it comes to easing the pressure. There are all sorts of little things family members can do to create a more relaxed atmosphere, from taking care of household management (there's usually no reason why this should fall to the same person) to fetching you cups of tea whilst you work and helping you to keep your office tidy. They can also help through what they don't do, by refraining from asking you about the business in your time off.
If you have a happy, relaxing family life you'll find it much easier to cope with the demands of managing your business, no matter how much work there is to do.
You might also like...
Yes, you need to look after yourself, but you also need to make time for your family, no matter what else is going on. You can't spend all your time working, you do need a life away from that to balance things and also to enjoy the company of the people you love (and let them see you care, too). Your family can act, in large part, as your stress relief, because you're forced to think of things besides yourself and your business. Some time away can leave you refreshed and sometimes full of new business ideas.
oldpunk
- 4-Jul-12 @ 9:04 AM