What is a Family Business?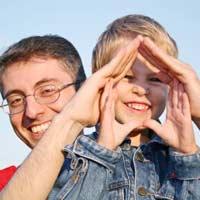 What Is A Family Business?
If you're reading this article, the chances are that you already have a family business, think you might have one, or are thinking of setting one up. But what exactly is a family business and how is it defined? It's not uncommon for family members to help out business people when they're working, so what level of commitment defines them as part of the business itself, and what does that mean in terms of how the business is run?
The Basics
Many people think of their companies as family businesses if they work for themselves, especially if they work from home, but the usual definition of a family business involves more than one family member, normally at an ownership level. Sometimes a company is treated as a family business if it's headed by one family member who then employs another, as when an executive employs their spouse as an assistant. Most family businesses involve people living in the same home or local area, though they may draw on funding from relatives based further away. Sometimes cousins are involved in family businesses, but most often they are based within nuclear family units, such as father-son businesses, husband and wife businesses, or sisters working together.
Not every participant in a family business has to be actively involved. Sometimes family members act as silent partners, contributing money but taking no part in day to day decision making or work. Most often; however, family businesses are small, close-knit operations where everybody involved has to work hard and, in return, has some say in how the business is run.
Intergenerational Family Businesses
An intergenerational family business is one which involves family members from different generations, such as a mother and her son. Sometimes businesses like these span several generations. This sort of working arrangement can be complicated to manage and requires careful planning when it comes to succession, as each generation may have different ideas, expectations and desires in relation to the business from the previous one. However, it can provide a good introduction to the world of work for children and it's rewarding for older family members to see the commitment they've made paying off as the business continues to prosper.
Family Businesses And The Law
Although the initial development of a family business is often informal, it needs to be registered like any other business before it is legally able to operate. It is also subject to the same regulations and, potentially, the same sort of monitoring and auditing. For this reason it's important for it to use a formal business structure even if relations between those involved in it are normally informal. Although children may be keen to learn about the business and get involved at an early stage, there are strict limitations on the extent to which they can participate at different ages. Understanding the rules and organising the business properly can save you a lot of trouble and, if you do it well, can also save you money, as you can make full use of different family members' tax allowances.
Mixing Work And The Family
The downside of running a family business is that it can put a lot of pressure on both working life and family life as the structures through which the two are organised sometimes clash. However, with hard work and patience, problems can usually be avoided, and working with people you already know and trust can give your business a real competitive edge. Naturally, it can also make it a satisfying and pleasurable place to work.
You might also like...
I am a student of kumasi polytechnic in Ghana. i am do programmer course entrepreneurship and finance. i am the final year student,my project work topic is family business and the succestion planning.dynamics,strategies
olies
- 14-Dec-12 @ 12:16 PM