The Achievements of Women in Family Businesses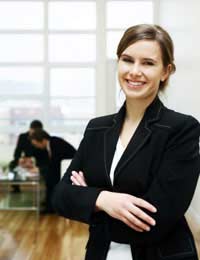 The traditional women's role of mother, housewife and social companion are now completely out of date and women have achieved success in their own right, becoming successful businesswomen and entrepreneurs.
A woman's place in any family business is not easy to define, unless they start up the business themselves of course. It has been said that women can find it much easier to rise to the top in a family business than in some other businesses, but the family business can also be a difficult minefield to negotiate, as the commitments of being a wife, mother and daughter may clash with the work expected of them as part of a family business.
Women's Place in Family Businesses
Research carried out on almost 300 family and non-family businesses which has recently been released by the private bank Coutts & Co, showed that it's the family business where women tend to be able to smash through the fabled glass ceiling. Women are 50% more likely to get to board level in a family enterprise than they are outside of a family run company.
The figures also showed that 62% of the family businesses that were surveyed had women members on the board of directors, compared to just 42% of non-family businesses. The study looked at businesses with a turnover exceeding £1m per year, and it is believed to have been one of the largest studies of its kind.
Mark Evans, head of family business at Coutts commented:
"These figures suggest that women are starting to influence and change the way family businesses are managed. Not enough has been written about the unique contributions of women in UK family businesses. While some may believe that women are brought into family businesses for reasons of shared ownership and tax, it is clear that they can make a valuable and different contribution to the way businesses are run."
Women Entrepreneurs
A 2005 Report on Women and Entrepreneurship also found that women represented more than a third of individuals who were involved in entrepreneurial activity – and came to the conclusion that women were even more likely to play a part in setting up a business when the business was 'informal' – that is, family run. Although the report did conclude that men still accounted for the lion's share of entrepreneurial activity, another report, this time from the US, had found that female owned businesses in the US have increased by 14% over the previous five years, but when the figures just looked at family businesses the increase was a healthy 37%. A similar trend was reported by the UK and continental Europe.
Why Women Thrive in the Family Business
The Coutts research showed that the family business was likely to have a greater emphasis on the individual when it came down to how the business is run. For example, some family businesses said that staff turnover and social responsibility were more important as an indicator of their success than their commercial goals.
Family businesses can often be seen as a more attractive proposition for women trying to juggle conflicting priorities and achieve some kind of work-life balance. Although it's a myth that working for yourself or as part of a family business automatically gives you a better work-life balance than climbing the corporate ladder for a stranger's company, flexibility as to in working hours and places can prove to be a big part of the appeal for women.
You might also like...