Delegating Business Tasks Within the Family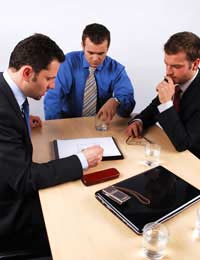 When you have several family members working together in the same business, sharing out business titles and vague areas of responsibility is usually simple enough, but deciding who is responsible for individual tasks can be more difficult.
Sometimes you'll have lots of volunteers for one task, and will risk causing offence by choosing one person over another, whilst in other cases you'll have no volunteers at all and will have to pick on somebody who is less than willing. It's best to develop a formal structure for allocating such tasks right at the outset, to avoid problems later on. This will give you the opportunity to make balanced decisions, in each case, about who is the best person for the job.
Finding The Talent
Your first considerations when allotting any task should be talent and skill. It's important that you have the will to make sure of this even when other people complain that they should be in charge of those tasks because they're older or have been around longer. You may also find the reverse - that some people see the family business as an opportunity to break away from areas they've been working in for years and want to try something new. In this case you might try suggesting that they take responsibility for those tasks on a short term basis whilst training their future replacements.
As you develop the long term structure of your business you can try to build it around your existing skill base and the skill base you believe you will be able to develop through training.
Positives, Negatives And Neutrals
The best way to share out tasks within your business without making yourself vulnerable to accusations of unfairness is to compile them into three lists: positive tasks, which people will generally enjoy; negative tasks, which are unpopular; and neutral tasks, which are not a big deal either way. You can then aim to balance these out as you distribute them among the people working for the business, also taking into account individuals' skills where appropriate.
If an employee complains about being given responsibility for an unpleasant task, point out the positive opportunities you've provided them with and explain how other unpleasant tasks have been given to other people. Where tasks require only generic skills, you can allow business members to trade and re-allot them within your existing business structure, so long as you can keep a clear record of who is doing what to which every employee can confirm their agreement.
Sharing The Burden
If some family members are considerably more skilled than others - sometimes just by virtue of being older and having more work experience - it's easy to end up giving them more tasks than they can really cope with. They may even acquiesce to this, either because they have a mistaken idea of how much they can handle or because they don't consider other family business members to be sufficiently competent. Drawing on employees' experience, try to work out how much time and energy each task is likely to take, and aim to develop a work structure that accounts for this effectively.
It's particularly important to make sure that you don't take too much hard work upon yourself. You'll need to have the energy and flexibility to deal with new, unexpected tasks, and to lead the business forward. Don't try to impress other business members by showing them how much hard work you're prepared to do if that's likely to leave you too exhausted to properly handle your essential duties.
Effective business structures are all about sharing the load. You may need to keep moving tasks around a bit during your first few months of operation, until you've got everything running smoothly, but from then on it will simply be a matter of making occasional adjustments to account for new initiatives. When everybody knows what their tasks are, the business will be able to get on with things.
You might also like...