Developing Professional Respect within the Family Business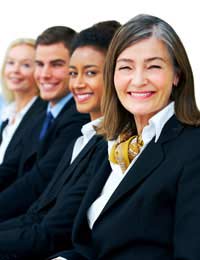 When you've been used to seeing someone in a casual context for years, it can be difficult to develop the professional respect necessary to interact with them in a business role - especially if you remember changing their nappies or watching them get drunk at parties. But respect is essential to the effective running of a business, even when everyone involved is from the same family. How can you nurture a professional approach and teach yourself and learn to think of others appropriately within the workplace?
Respect Across Generations
Perhaps the biggest reason why people struggle to maintain appropriate levels of respect for one another within family businesses is the generational differences which exist in many.
Not only do older family members find it difficult to respect the professional abilities of the younger generation, but younger ones may well see the older generation within the business as hopelessly outdated and stuck in its ways. In order to work around these problems you need to engage seriously with one another about how you see the work the company does, attempting to analyse your own approaches and explain why you do what you do. This will usually demonstrate that everybody is, in fact, serious about the business. If you didn't all have professional skills and expertise to bring to it, you wouldn't be there. At the very least, you're putting in hard work, which ought to be worthy of professional respect.
The Professional Environment
Sometimes even when everyone working for the family business is from the same generation there can still be problems developing respect because you're are used to joking with each other and not taking each other very seriously. This may create a pleasantly relaxed environment but it can get in the way of getting work done and it risks making you look unprofessional in front of clients.
No matter how you would normally behave towards a particular person, there are some places in which it's necessary to conduct yourself formally. Try to make a clear distinction in your head between work and home, just as you would in any other job. It wouldn't be appropriate for your brother to enter the office where you worked for another employer and start teasing you, so it's not okay when you're working for yourself, even if he's part of the business too.
Getting used to a professional environment means that you'll fall into good habits and you won't have to watch yourselves all the time when dealing with clients. It also makes it easier to develop ongoing respect for one another's professional abilities. It does not mean that you can not relax and have fun together out of hours - it's just that fun is something you should have on your own time, not on the time you have chosen to dedicate to the business.
Restructuring Your Relationships
When you're used to interacting with your family members only on a casual basis, you'll need to restructure your relationships in order to function together as a professional unit. This is a process that will take time, but the simplest way to kick it off is to spend some time getting to know one another's work skills. Cross-training exercises in which family members teach each other new skills can help with this, as can working together on shared projects.
Often when family members are behaving disrespectfully towards one another a manager's instinct is to separate them, but it can be more effective to insist that they work together in situations where they're dependent on one another, or to put them through professional team building exercises in which they can learn to appreciate one another's abilities.
If you have ongoing problems with a lack of professional respect, talk to the people concerned and try to establish their specific reasons for struggling to respect each other. Often when these are exposed everyone will be able to see how trivial they are. It's a small step from there to demonstrating the importance of putting professionalism first, given that the success of the business is so much more important.
You might also like...