When a Family Member Wants to Leave the Business.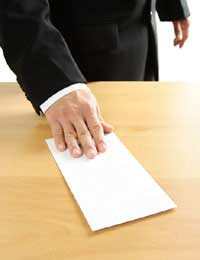 In a small, close-knit business organisation, dealing with somebody leaving is never easy, but it's even trickier when that somebody is a family member. Often the departure can be quite emotional and it can be difficult to know how to prioritise the needs of the family and those of the business.
It's important to determine how important leaving is to the individual concerned and whether anything can be done to persuade them otherwise, but you'll also need to do what you can to prepare the business to carry on without them if they do leave.
Seeking Confirmation
Sometimes when family members say they'd like to leave the business, what they really mean is that they don't feel able to carry on working there. This can happen for all sorts of reasons but if you can find out what they are then you may be able to persuade them to stay by making a few changes that will benefit the business generally. It's particularly important to investigate this possibility if more than one person has expressed a desire to leave within a short period of time.
Check to make sure that you're not putting your staff under too much pressure, that your working environment is a friendly one, and that you're providing adequate support for any practical problems. It's also worth asking if there are family problems which make people feel they can't stay. Bear in mind that people may respond dishonestly to questions like these in an attempt to spare your feelings, but that doesn't mean they might not be employees worth keeping if you can figure out what's really going on.
Working Together
If your family member is determined to leave, and there is nothing you can do about it, try to persuade them to delay doing so for a few weeks. You can do this contractually by insisting on a month's written notice, but in practice a personally established agreement works much better, because otherwise people may simply choose not to turn up. It's more important than ever to work together at this stage so that you can facilitate a smooth transfer to a new employee or an effective distribution of that family member's duties amongst existing employees.
First of all, make sure you know exactly what that person was working on. If they were dealing directly with clients, ask them to provide personal introductions for whoever is taking over, and make sure the whole process looks amicable even if there are underlying stresses. Obtain a list of any upcoming business appointments they may have so you can make sure everything is still covered. Make sure you have complete access to their files in the business' computer system.
If they were a highly skilled worker and they are leaving on friendly terms, ask if they can recommend a successor. If they are amenable to it, get them to show their successor around and, if practicable, agree to a few days of shadowing.
Friendly Relations
After a family member leaves your business, it will be in your interests to be on good terms, even if there is short term animosity between you. You never know when you may need to contact them to ask for advice about some aspect of the business for which they were previously responsible.
There are several things you can do to aid this process. Inevitably, everyone with business mail and email addresses receives some personal communications there, so make sure you know where you can forward these too. Offer to keep them informed about the business if they continue to take an interest in it. Offer references if they may be helpful in securing future employment. And aim to keep them as a part of your business network - you never know when they may come in useful.
You might also like...