Creating a Separate Work Space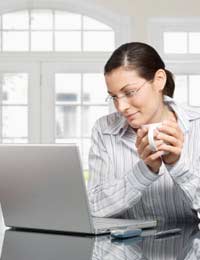 When you're working in a family business, keeping work and family life separate can be tricky. It's even more so if you have a home office so that the physical spaces of your work and domestic life overlap. Learning to separate these spaces and to avoid the overspill of work related matters into your home is essential to maintaining a good work life balance. So what can you do to create the distance you need?
Everything in its Place
When you work from home, even if you do most of your work from a separate office or workshop, it can be tempting to pop in and out of the rest of your house at various times during the working day, when you need a quiet sit down, a cup of tea or a book for reference. Try to keep this to a minimum. Every time you do it, you're strengthening your subconscious associations between your work and the domestic spaces in which you ought to be able to relax. This means that when your business day ends it will be harder for you to let go and set your business concerns aside.
Just like paperwork, business related thoughts should be left in their place at the end of the day if you are to enjoy a healthy work life balance.
Space and Time
Whilst it's easy to understand why a separate work space is a good idea, many people fail to realise that this should also apply to work time. When you work from home it's always tempting to pop back into the office for an hour or two after dinner or at the weekend just to finish off odd jobs, but this can easily become a bad habit. Although it's good to be hard working, working too hard will soon get you to a point where you can no longer work well. What's more, work needs to have boundaries. You need to know that when you've finished work for the day, that's it.
Your family members need to know that when you've finished work you'll be there for them. Family life can quickly deteriorate if one person seems to be putting work first all the time, even with a family business.
If you find yourself doing work out of hours from time to time, keep a work diary so that you can keep track of it. This might be as simple as a sheet of paper pinned to your office door. It's easy to lose track of how much personal time you're losing to work, but your diary will reveal all, and then you can adjust your schedule to try and achieve a better work life balance.
It's better to make your working day an hour longer than to keep doing overtime, as this at least keeps your work and domestic time appropriately separate.
Family Matters
If you're finding it hard to keep work and domestic life properly separate, work on the problem in partnership with your family. If you're all part of the same family business then you can approach it as a team, keeping an eye on one another's schedules and having a firm rule about avoiding business conversations outside of work.
If you have young children, you can try instituting a system of forfeits, whereby you have to give them a small reward or do a favourite trick for them every time they catch you breaking your rules. This can turn it into a game and help to relieve tension.
Don't take business related worries home with you - let your domestic space be somewhere you can let go of stress and enjoy spending time with your family, because without that rewarding family life there's a lot less point to your business anyway.
You might also like...