The Problem of Sexism in Family Businesses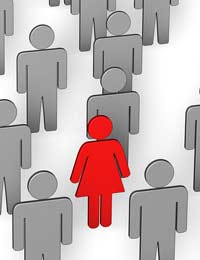 In a family business it's really important to make best use of all the talent available to you, but sadly, in some such businesses, the talents of female family members get overlooked.
Women are expected to take care of household and family problems and not participate in the business, or when they do participate they are relegated to subordinate roles. Sexism like this, though often unconscious and unintentional, can be really damaging not just to the prospects of the women involved but also to the business itself. By robbing it of potentially useful resources you're damaging opportunities for everybody.
Identifying Sexism
If you ask them directly, most people will tell you that they're opposed to sexism in the workplace. But do most people really know what it is?
Often, in this day and age, we fall into sexist patterns of behaviour accidentally, simply because of what we're used to seeing around us. These behaviours can be reinforced by aspects of family life. You may feel more protective of daughters than of sons because of the different risks they face in society, and this protective instinct may lead to you thinking of them as less capable. Similarly, if you're used to seeing your wife in the role of home-maker and carer for your children, it may be hard to imagine her in a business role, even if you have every respect for her intelligence. This may not be intentional sexism but it can still be problematic.
When you're establishing who will do what within your family business, it's important to be aware of these possible unconscious biases. This means that even if they're there you can work around them, and you can judge individuals on their own merits.
Women In Management Roles
Traditionally, women have been more likely to work in supporting roles than in management, and the number of women in senior management roles in Britain is still disproportionately low. In family businesses men often find it difficult working in positions where they're subordinate to their female relatives, if only because this is at odds with the way they're used to things working within the family. This may make it difficult for a female family business manager to assert the necessary degree of authority for her role.
In these situations the whole family needs to come together and acknowledge the importance of treating her with respect, because if she is kept from doing her job by sexism then the business may have to resort to employing a less talented manager, in which case everyone would lose out. This doesn't mean treating female managers as if they're more fragile or less capable of asserting themselves than male ones, but it does mean acknowledging the particular problems they may face.
Of course, there is still a risk that female managers may be taken less seriously by some customers and business associates than male ones. This could potentially put your business at a disadvantage, but the only way this kind of sexism will be changed is by more and more businesses employing female managers regardless.
Confidence Issues
Unfortunately, even if you're very careful to keep sexism from blocking their progress, you may find that female members of your family are less likely to put themselves forward for important roles within the business. Why is this?
One of the effects of sexism in wider society is to undermine women's confidence in themselves, so that the average woman is less confident about her abilities than the average man. This is something you should be aware of when designating business roles.
You may need to look carefully at a woman's employment history and references to get a clear idea of what she's capable of, then persuade her that it's okay to admit it. You may also need to assure her that taking on a senior role won't cause family problems and that the whole family can work together to make sure any household duties she regards as hers are taken care of. In this way, the family can work together to get the best results for the business.
You might also like...