Marriage Strains: Business Conflicts and Long Hours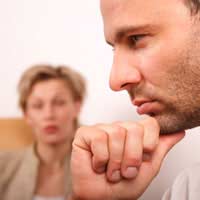 Everybody who works long hours knows what it's like - you come home exhausted at the end of the day and all you want is to eat and sleep.
If you're married or in a civil partnership or long term relationship, this can leave your partner feeling frustrated or even angry. You can end up shouting at each other when what you both really need is mutual support. Now imagine coping with this in a situation where you're both working for the same family business, and you'll see how things can become very difficult indeed.
If you're planning to go into business with your other half, you'll need to work on devising suitable coping strategies, or your relationship could face more strain than it can cope with.
Same Business, Different Roles
However much people love each other, spending too much time together can often make a marriage fall apart. If you're working in the same business as your partner, it's usually a good idea to take on roles that keep you apart for most of the working day - perhaps in different offices or with one of you spending a lot of time out and about. Not only will this stop you feeling suffocated and stop you wasting time chatting to each other, it will mean that you have something to talk to each other at the end of the day (instead of knowing all of one another's news already).
Working in different types of roles makes this even better as it will give each of you a different perspective on the business - and if one of you is in a management role, they may well find feedback from their partner very useful in making sure that the business runs smoothly at all levels. However, being bossed about by your other half can lead to resentment and can too easily spill over into domestic life, so if possible you should avoid situations in which one of you is directly answerable to the other.
Managing Home Life
When you've finished a hard day's work in the family business it's hard to apply yourself to getting the housework done and preparing a hot meal. Even if you agree to take this in turns, you may often come to resent it, and you may find that your domestic habitat deteriorates. It can be easy to start getting angry with each other about this. Stop. It's time to take stock and to realise that you're not the cause of one another's stress - work is. Sometimes it helps to blow off steam about work together or to make jokes about it. Just remember that you're on the same side.
If housework gets you down, consider having a cleaner come in just once or twice a week. This is more affordable than you might think and it can make a big difference to your quality of life. You'll then know that if you don't manage to get something done things won't just go on getting worse.
Try not to expect too much of each other after work. If exhaustion is taking its toll on your love life, just make sure to spend some time cuddling and relaxing together. Try non-strenuous hobbies like reading or watching TV, which will also give you non work-related things to talk about.
Time Out
Getting a family business going often means working six or even seven days a week, getting time off can be difficult - and, because you may be required at different times, getting time off together can be even more so.
It's important that you stress from the outset that you cannot both make a full time commitment to the family business unless this is understood to be a problem and your shifts are coordinated. Even just one afternoon a week to spend together can make a big difference. Plan to spend time together then and don't let anything else get in the way.
If you work from home, consider going somewhere else in order to create proper psychological distance, even if this just means a walk in the park or a visit to a favourite restaurant.
If, despite all this, you feel that the business is putting more strain on your relationship than you can handle, consider seeing a marriage guidance counsellor. It's the marriage guidance counsellor's job to try and help you stay together no matter the circumstances of your relationship and no matter the problems you're facing. You won't just be told to give up on the business - you'll be assisted in developing practical coping strategies. In the long term, if you can make it work, you'll have a thriving business as a testament to the strength of your relationship.
You might also like...