Arranging Business Training for Grown-Up Children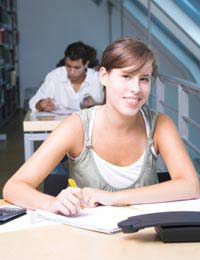 There's an old saying about family businesses, and that's that they result in hard-working grandfathers, rich sons and pauper grandsons. The idea behind this is that the founder of a family business generally works hard to build it up, the second generation lives off the proceeds and can afford to be lazy, and the third generation inherits a ruined business. If you want to make sure this doesn't happen to your business, providing proper training for your children as they prepare to inherit is essential. No matter what they've learned from watching you, or from their day to day involvement in business activities, they'll need the education and focus that come from formal business training in order to be able to manage it effectively in their turn.
Establishing Training Requirements
Before you start looking into training options with your children, it's important to be sure that they really want to take over the business, and it's important to identify the direction in which they wish to take it. They may have very different ideas from you, but if the business is to succeed in the long term then it will need to follow their direction, not yours. Try to handle this in a positive way and discuss their aims. This is also the time at which you can raise any concerns you may have about their weakness when it comes to particular business skills, and you should encourage them to identify their own weaknesses. Being willing to admit your own can help this process along.
Even if they have been working in the family business for a long time and acquiring a lot of good general skills, it's probable that your children will have no experience of management. Rather than expecting them to take over your big, complex, fully developed business and get it right from the start - effectively throwing them in at the deep end - you should ensure that they receive good management training, no matter what other options they may wish to pursue alongside it.
Higher Education And Funding
It's important never to let the needs of your business override your children's ambitions for their own futures, or you'll all be unhappy in the long term, but if your children are genuinely keen to put the business - and their own business skills - first, then their guaranteed state support for undertaking a course in higher education can be put towards it. In Scotland this will include paid fees at a university; right across the UK it will include access to support loans and, in some circumstances, other funds (such as special financial provision for disabled students).
There are all sorts of good business training courses available at this sort of level, from university degrees to HNDs and other more vocationally focused electives. A qualification like this will give your children lots of good options and make them highly employable elsewhere as well as giving them the skills they need to manage your family business. It can also make your business look more impressive if it has well qualified people at its head.
If your children do other things with the first few years of their adult lives and only take an interest in the business later, all is not lost. They can receive extra funding to take courses of higher education as mature students. If they already have qualifications in other subjects at that level, they may be able to take conversion courses which will draw on their existing skills and develop their business skills more quickly. If they have been unemployed they may be able to access state grants to help them acquire business skills - ask your local business support centre for advice.
Alternative Business Training Options
If academia is too much to take on, there are all sorts of other business training opportunities out there. Your local business support centre will be able to give you a list of courses available in your area. If you are a member of a business association or a union specific to your area of trade, you may be able to access subsidised professional business training through that. This type of training is ideal for young people who have good general business skills but need to improve in just one or two areas.
Improving your children's business skills is the best way to ensure the long term survival of your business. It can empower them to make good decisions and it can give them the experience necessary to understand why the business matters so much to you.
You might also like...