Running a Family Home Office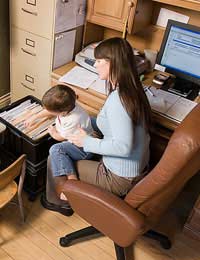 Running A Family Home Office
Right at the core of any business is its office, and that's no less the case when it's a family business. Most family business owners choose to base their offices at home, at least when the business is young, as this makes it easily accessible to family members and means that it's less trouble to work overtime or pop in from time to time outside normal working hours. But running a home office effectively takes special skills. You business will benefit if you familiarise yourself with them at the outset.
Setting Up Your Home Office
In the first instance it's important to make sure that your home office contains all the practical thing you're going to need. Set aside a dedicated space, preferably a room which you can lock (this will keep your insurers happier). You'll need at least one desk, a telephone, and a filing cabinet for your documents. It's best to make sure you have plenty of space from the outset as paperwork can build up fast. Most businesses will need at least one computer (network them if you're using more), ideally with a scanner, printer and fax machine attached.
It's very important to have good office seating as you could be spending long hours working there and you won't work well under physical stress. For similar reasons, natural light is strongly recommended. Also make sure that you have a bookshelf for technical manuals, dictionaries etc., and a waste paper bin to help you keep the place tidy.
Sharing Your Home Office
Sharing office space with other family members is often more difficult than people anticipate. Sometimes it can actually be harder than sharing with strangers! Try to discuss your different wants and needs at the outset and lay down some ground rules to avoid conflict. For instance, you might decide which bits of your office wall space are shared (for clocks, business charts and calendars) and which you can use for your own personal pictures and memos. If you're sharing finite resources like pens and paper, make sure one of you has specific responsibility for keeping the supply topped up. If you like to listen to music whilst you work, invest in a good set of headphones and a flashing light which will tell you when your phone is ringing.
Small things can really grow to annoy people in small shared offices, therefore, it's important to air grievances early, rather than trying to put up with something until stress becomes unbearable. For this reason it's a good idea to have a regular scheduled chat about the office - say, at the end of board meetings - in which it's okay to bring such things up. Aim to be polite and accommodating even if problems seem petty. You'll also need to make sure that work related stress doesn't spill over into office arguments, so it's advisable to step outside and do something else for a little while when you really need to blow off steam. Having scheduled tea breaks will give you and other family members working in the office the chance to break up your day, relax, and discuss your concerns before going back to work.
Limiting Your Home Office
When you're running a family business it's all the more important not to take work home with you. In this case, that means that work issues stay in the office. Once you close that door at the end of the day, you should stop worrying about work, and you should never carry over your work concerns into general family life. If you need to discuss matters to do with the business, there should be scheduled opportunities to do so. This approach will prevent the office from intruding into your home life and will help to preserve an independent family life.
Getting to grips with running a home office can take some time, but provided you stick to these general guidelines and are efficient in your personal discipline, you should be off to a good start.
You might also like...