Family Businesses and Childcare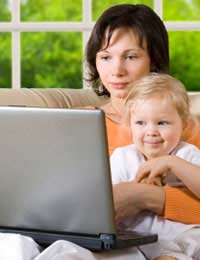 Family Businesses And Childcare
No matter what kind of business you're in, organising childcare can be problematic, and in family businesses it's often even more so, especially if both parents are working in them. How can you minimise the impact of your family business on your children and make sure they're properly provided for? How can you make your working arrangements a positive force which will benefit the whole family rather than something which will use up time and energy they badly need?
Setting Your Own Hours
Many people assume that being in business for yourself means you can set your own hours, but in practice it's not always that simple. Depending on the type of business you're in, it may well be necessary for you to have someone available to deal with enquiries nine to five. You may need to fit your hours around the times when members of the public want to access particular goods and services. You may even need to be on call. However, in most of these situations it won't be necessary for everyone in the business to be working the same hours - some work can be done at the end of the day or early in the morning before your business premises are open. This can enable you to split shifts with other family members so that there's always someone available for childcare. You can also aim to arrange your working hours around school opening times so that you can be available for your kids when school isn't there to take care of them.
Accessing Government Childcare
Though they're locally based and vary by region, there are an increasing number of government childcare programmes available to help working families. These can be especially helpful to single parents who want to go into business with other relatives as a way of improving their economic circumstances, or to the parents of children who are still too young for school. Speak to your local social work department about your situation and they may be able to get your children priority places on nursery waiting lists. Whilst you may prefer to look after your kids yourself, many really enjoy these opportunities to meet and socialise with others.
As your children get older, after school clubs and courses can provide a useful means of keeping them happily engaged elsewhere whilst you work. Encourage them to develop their interests, but don't forget to give them plenty of love and attention when they come home, even if you're feeling tired. They'll need to know that you're not choosing to work in preference to being with them.
Taking Your Children To Work
Depending on the nature of your workplace, there are all sorts of ways in which you can make your children a part of it. This is how many family businesses cope with childcare pressures. For instance, you may be able to put small children in a baby seat or playpen and talk to them whilst you work, still managing to get a lot done even if you need to take frequent breaks to attend to their needs. If you work in a social environment like a shop, older children may be able to do homework, play or read in your storage room, coming through to be sociable with customers from time to time. If you have regular customers the presence of children can give your business a more homely and inviting feel, though obviously you'll need to be careful to make sure that your children are not at risk from any aspect of your working environment.
Accompanying parents to work can be a great way from children to learn about the way the world works, and it can help them to feel included in the process of developing the family business, not sidelined whilst their parents are mysteriously busy all the time. They won't need to be actively involved in order to benefit from seeing what you're doing.
However you approach childcare, remember that your children have a big stake in the future of your family business and a right to have their particular needs considered as it develops. Let them know they're appreciated and they'll be far more positive about the business in years to come.
You might also like...