Establishing a Shared Vision for Business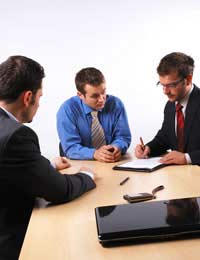 If your family business is to be successful, it's important not just that day to day tasks are completed effectively, but that everybody is working toward the same goals. Establishing a shared vision for your business is something you should do right from the start, developing clear objectives which can help to inform decision making. When you share the same goals, you'll work much more efficiently as a team, and your business will soon feel the benefit.
Objectives And Strategies
Ideally, a meeting to discuss the major objectives underlying your business should be held during the planning stages before you start trading, but it's never too late to get everyone together to work on this. Indeed, many businesses find that they benefit from regular meetings of this sort. These can help to ensure that they don't drift away from what's important.
Often a family business is centred around a single family member's vision of what can be achieved, and it's important to develop this into a shared vision in which everybody feels they have a stake. Try to find out what's important to each family member and what they would like to see the business achieve - whether or not it meshes neatly with your own ideas. You may need to restructure aspects of the business to make sure it truly belongs to the whole family.
Once you have established a set of shared objectives, you can use this as the foundation of your business strategies. Keeping a note of the progress you make toward your goals will help with staff motivation as well as making it easier for you to adhere to your original vision. Strategies themselves can change without undermining the overall purpose and direction of the business.
Principles And Policies
Part of the process of developing a shared vision for your family business is establishing the principles that matter to each of you. For instance, one of you may wish to prioritise providing a certain guaranteed level of income to your staff, and another may be particularly concerned about making the business environmentally friendly. Sometimes adhering to one principle will make it difficult to support another, so you'll need to discuss possible clashes and work out what's most important to you.
Once you've established your central principles, you can work on developing policies to go with them. For instance, if one of your principles is that you should be family friendly, you can work out the practical ways in which you can make things easier for staff who have children or vulnerable relatives to care for.
Incorporating written policies based on principle into your business can help to guide your decision making. It can also make you eligible for awards and commendations when you can show that you've utilised them effectively, and these can boost your standing in the business community.
The Benefits Of A Shared Vision
Sharing a vision for your company is about more than just developing coherent strategies and policies - it's about sharing a passion. Developing a new business is hard work, successful businesses are generally driven by passionate people who have a major emotional investment in them. The more of your staff who feel this way, the more likely you are to do well.
It's important to make everybody in your business feel that the business is for and about them, and that their passions are a part of it. Encourage your staff to contribute their ideas even if they're not very confident about their business knowledge, and be ready to take criticism from them. Make sure they know that they can always speak up if they feel you're doing the wrong thing.
A strong vision is particularly important in a family business because it helps to ensure consistency and coherence in the long term, as well as giving you the motivation to keep on working at it. When the vision belongs to everybody, everybody will be loyal to the business.
You might also like...