Dealing with Work Related Stress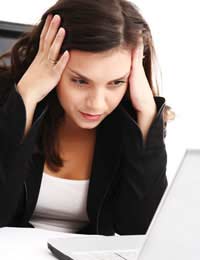 Stress in the workplace - whether it's your own or other people's - can be a big problem for a small business. Even if you try to knuckle down and work through it, it can result in poor concentration, leading to a lower standard of work, and it can even cause illness and absence. So what can you do to fix it, and what specific issues should you be aware of as a family business?
Causes Of Stress
Before you can really deal effectively with stress, you'll need to figure out what's causing it. Sometimes this is as simple as asking, but there will be times when the stressed person can't put their finger on the real reason, or when they feel too awkward talking about it for you to make progress.
Sometimes it's easier to talk to one person than another, so having different people enquire about apparent stress can be a good idea. Many people find it easier to talk about emotional issues to women than to men, because they are more likely to be used to women being in caring roles.
When stress is being generated within the family, it's sometimes easier to talk to an outsider. Always try to be as neutral as possible and make sure you don't take offence if your behaviour is part of what gets complained about.
Often stress is caused or exacerbated by lifestyle issues. In a family business it's easier to keep an eye on these things and help affected individuals to adopt healthier modes of living. Common problems include irregular eating, poor nutrition, dehydration, irregular sleeping patterns, continual exposure to loud noise in the home or workplace, and lack of exercise.
Taking Stress Seriously
Sadly, many people don't come forward when they're feeling stressed at work because they don't feel they'll be taken seriously. This means that problems can develop that the manager is unaware of, making life difficult for everyone. Often the stressed individuals will then be blamed for inexplicable poor performance, which will make them feel worse.
It's important to be open about stress in the workplace and to acknowledge it as something that anybody can be vulnerable to. Managers can take a lead by acknowledging any difficulties of their own in a calm and practical manner. Nobody should feel that they have to be ashamed of being stressed - it's important that it should not be seen as a sign of failure.
Make sure your staff members don't feel that they're obliged to cope with particular situations - like ongoing heavy workloads - without help, just because other people do.
Even in a workplace where stress is discussed openly, business members can sometimes be reluctant to admit their problems because they don't feel they're very serious. The problem with stress is that, if left to fester, it tends to get worse. The best way to deal with stress is to tackle it before it starts to seem like a big deal.
Tackling Stress
The precise means by which you tackle cases of stress will depend on what's causing them, but the most important thing is that you take the time to sit down and work out a plan that's practical for everybody. In a family business this can include family members who are not actively involved in the business (provided that the stressed person feels comfortable with them knowing about the problem), as they too can contribute to finding a solution.
Be careful not to let the management of stress become stressful in itself. Employees should never feel as if they have a duty to get better for everyone else's sake. The search for a solution should focus on them and their needs. A person-centred approach is the best way to tackle stress in the workplace, and it's good for your business!
You might also like...